Enter: The Wind (2016)
View lyrics and videos for each song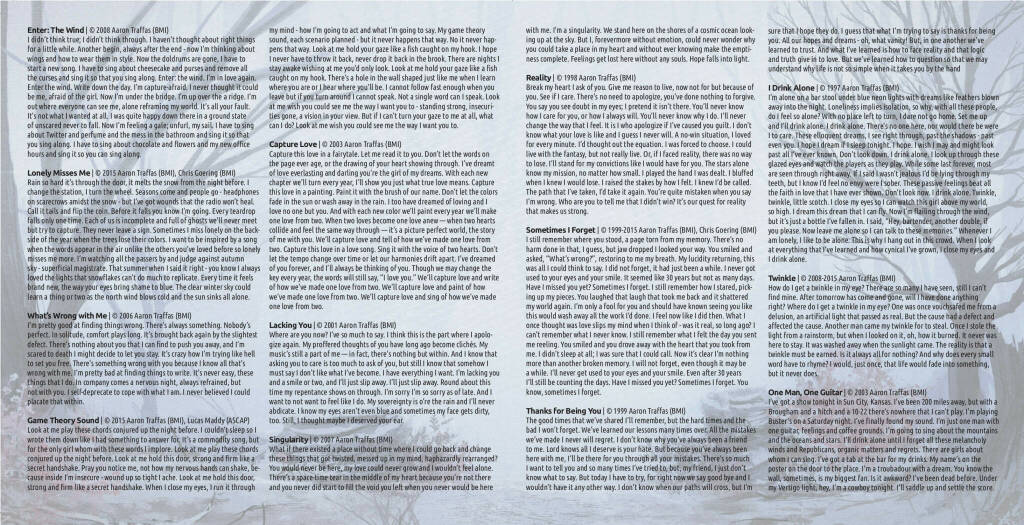 Aaron Traffas Band releases Enter: The Wind
The Aaron Traffas Band is thrilled to release the new album Enter: The Wind, available everywhere on November 8, 2016. Nearly a year in the making, Enter: The Wind is the band's sophomore record, succeeding their 2011 debut Dirt Red Sun. The new album showcases an evolution into more meaningful lyrics, catchier melodies and meatier instrumentation.
It wasn't a quick or obvious process. "When we recorded Dirt Red Sun, we went in the studio one weekend and knocked out the songs that we'd already been playing for years," recalls Aaron Traffas. "Enter: The Wind was much more of an organic process. I went in to record demos of some of my old songs last December and they really turned out well. We decided to record them with the band, along with some existing songs that we'd been playing since the release of Dirt Red Sun. Before we knew it, it was late spring and we had enough songs for a full length release."
The album features a range of styles, from "Reality", a driving country song with a complex rhyming pattern, to "Capture Love", a traditional love song duet, to "Sometimes I Forget", a monstrous production that approaches the punk side of Americana. "Lonely Misses Me" is an introspective and aspirational rock anthem, while "What's Wrong with Me" feels like an alternative country power ballad.
Kiowa native Mason Powell, the band's drummer, notes how much more comfortable the recording experience was. "This round of recording presented a confidence in our process that was lacking on our first record," says Powell. "This being our second time recording together, it also allowed for a more relaxed feel in the studio. When you are comfortable you play that way, you think less, play more, lock it in and just go."
"Enter: The Wind gave us the opportunity to try things that weren't possible with Dirt Red Sun," explains Traffas. "The songs are much more challenging, but we decided to take the time to get everything right. Our focus wasn't mass appeal; instead, we wanted to make the record we wanted for ourselves. I think that mindset yielded a much, much better product than we would have had otherwise."
"Randy's bass guitar is both intricate and powerful, and Keegan's harmonies are really solid," beams Traffas, referring to Randy Miller, the band's bass player from Anthony, and Keegan Han, the band's guitarist from Topeka. "I'm really proud of what we were able to attain musically. I even played a lot more guitar solos than I did on the last record. We're also grateful to Carter Green, producer and engineer at Greenjeans Studios, for chiming in on the organ, piano and some guitar parts that are just perfect for what we were trying to accomplish."
Traffas wrote all 13 songs. "I wrote 'Thanks for Being You' when I was in high school for the MLHS graduating class of 1999, and 'Capture Love' was for the wedding of Tyler and Stacie Strong," he said. "Both songs are duets, and I'm so happy we could get friend-of-the-band Jennifer Melcher to record them with us."
Traffas had help writing some of the songs from his friends Chris Goering and Lucas Maddy, the latter a singer-songwriter currently touring with the Kansas Cartel. After hearing an early digital release of the record, Goering said "I absolutely love Enter: The Wind and feel like it works well together as an album musically and lyrically, with each song exploring another part of love, loss and life. In a word—timeless."
Call 98.3 Coyote Country or 97.5 The Quake to request "Lonely Misses Me", the first single released to radio. Enter: The Wind was released on November 8 to music streaming websites like Spotify. It can be purchased from Amazon, Google Play and iTunes. If you'd like to order a local, physical copy directly from the band, email [email protected].